Tripawds is a user-supported community. Thank you for your support!
Diagnosis
On Friday June 6 a small tuft of fur came off Mona's leg. Within a day it grew to a golf ball size lump and didn't seem to bother her but she started bunny-hopping going down the stairs. She saw the vet on June 9. He did surgery hoping it was an abscess, took an x-ray and ruled out bone cancer and hoped it was a strange infection that he could blast out with antibiotics. I took Mona home, over the next few days it continued to grow. Mona was still happy and active and bunny-hopping down the stairs.
The vet checked in on Mona and wanted to see her. Because the lump was bigger he was quite certain she had a vaccine related fibrosarcoma (rare they say) and wanted to amputate the next day. Needless to say I was stunned. They x-rayed her to determine if the cancer was in her lungs, it wasn't.
Amputation Day – June 13, 2014
Mona is very relaxed at the vets. They think she is very sweet – that's because she turns the cute on. The clinic calls her their #1 pet because she's so relaxed and it makes the tests and surgery easy for them.
So she was relaxed and I was still numb about what was happening. While waiting for her to go in for surgery they gave her a shot to "relax" her. Mona fell asleep in my arms and started snoring. The vet discussed more details of the surgery. He told me he thought I was doing well, I wasn't and started to cry. He also teared up, kissed Mona on the top of her head and told her she was loved. I gave her to him and she snuggled in to his arms. I knew she was in good hands.
In the afternoon I received the call from the vet that Mona was awake and I could go in to see her but the vet wanted to take her home for the weekend. I suddenly felt jealous. I thought he was becoming too attached to her…
At the clinic they had Mona all bundled up I blankets. She seemed quite stoned and as I held her I realized that it made sense for her to be monitored at the vet's house. He would call me the next morning and she would go home with me if she was doing fine, otherwise he would take her to the clinic so I could visit with her.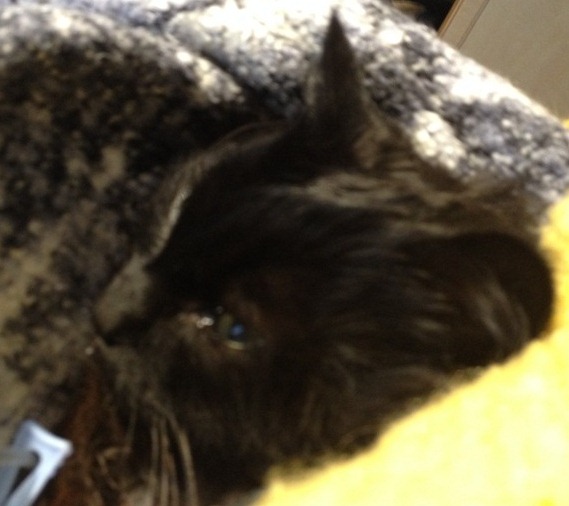 The next morning Mona got to come home. As soon as I laid her down on her bed on the floor she ran to the window, which was partly open and has a screen. She jumped on to the window ledge and started climbing up between the screen and window. A cat with a missing scapula and leg can really flatten out.
Amputation Costs
I saw a forum here where people posted the amputation costs for dogs. Should we start a forum for amputation costs for cats? Because my cat's tumour is associated to a vaccine, the pharmaceutical company that produced the vaccine will reimburse me for 50% of the amputation costs. I think this is important information for those in a similar situation if costs are a barrier to having the surgery done.
Medication
Buprenorphine and Medicam – she would go wacky when it was time for her meds. I suspect the pain was starting.
Food
The vet sent her home with canned kitten food. She loved it!
Litter
I cut down her litter box, moved it from the garage to her nursery and bought new litter, "Yesterday's News".
Staples, Sutures and Drain
Mona did not come home with a cone and didn't bother with the staples but did scratch at the drain. I made sure I "snapped" it often, got the crust off and wiped her with a baby facecloth to clean off any drainage fluid. The vet took the drain out early since Mona wanted to scratch at it anyway.