Tripawds is a user-supported community. Thank you for your support!
Highs and lows from amputation day to staple/suture removal day 
High #1: Mona cleaned the left side of her face with her left rear foot within 24 hours of surgery. I think she was really stoned because I haven't seen her do it since.
High #2: I slept in the "nursery" with Mona and she came in to the bed to sleep with me after night #2.
High #3: Mona can run really fast. It must be some momentum propelling her forward. I think it's like riding a biking, when going slow you wobble, when going fast you have your balance.
Low #1: Mona escaped the nursery, ran really fast up the stairs and peed on the carpet.
Low #2: Mona escaped the nursery, ran really fast up the stairs. The other cat and I ran after her. She ran really fast down the stairs, opened the door to the closet where she normally eats and peed.
Low #3: I was working at my desk in the nursery at my oak pedestal desk. One of the filing drawers was open. Mona jumped into the drawer and into the void behind the drawer. She peed.
High #4: I opened the nursery door, moved the litter box next to the garage door, threw out the new litter, poured in the old used litter. She used the litter box.
Low #4: June 17 – Mona took her last dose of buprophenal the night before. When it was time for the next dose of Medicam I tried to get her out of the closet where she was sleeping with the shoes. She jumped over me and ran really fast down the hall, turned the corner and body slammed the wood-screen door and escaped outside. I did not find her for 26 hours.
High #5: I met a lot of wonderful concerned people when looking for Mona. Also petfinders.ca was putting together a search party when I found Mona in a cupboard under a landing in my garage. What did I learn? Just because you look one place once, check again, she might be there! Mona was fine. She ate and I had my biggest cried through this whole ordeal.
High #6: Mona wants to go outside but I won't let her until her staples and sutures come out. After 2 weeks they were removed. I let Mona out the patio door and she sat on the deck in the wind and warm rain for 1.5 hours, just loving the smell of freedom. She scratched at the patio door (yay!) to come in to sleep on her rocking chair. Ahhh, life is good.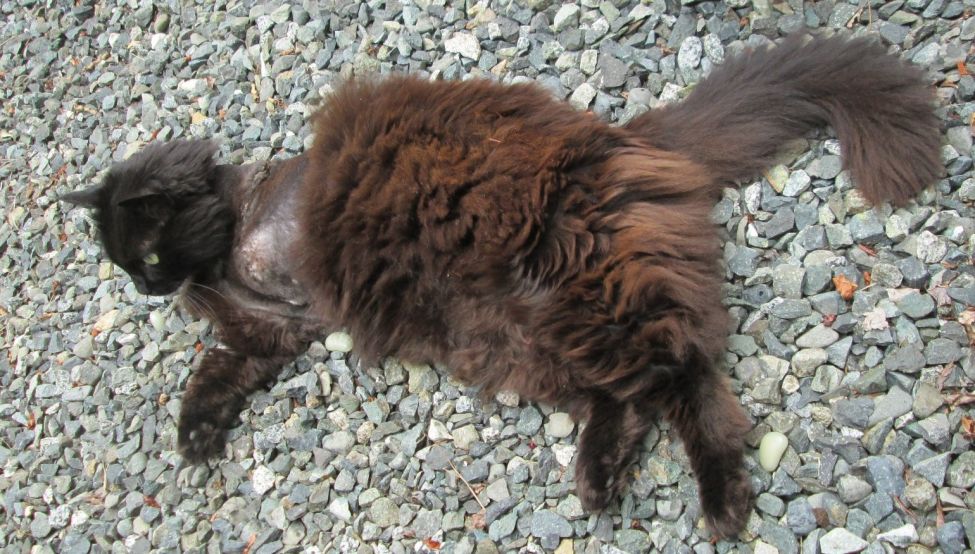 High #7: Mona has lost weight. But my sister pointed out that she lost a leg – that was probably the weight. Once she's stabilized I need to focus on her weight as she has a cute little buddha belly.
High #8: The lump was a fibrosarcoma and Mona's lymph nodes are clear.
High #9: I moved back to my bed upstairs and Mona joined me under the covers for a snuggle the next morning. This has been part of her morning ritual. My girl is back.
Mona's Sitting Posture
With her left front leg gone she now sits with the right front leg directly in the centre but sometimes her paw is turned in (like pidgeon-toed) and then she places her back left leg further forward than her right.
Food and Supplements
I'm concerned about Mona's joints. She won't eat food with a glucosamine supplement added so I've been trying other foods that have joint supplements in the food. No luck so far. Somehow my cats both like or dislike the same foods. They communicate in some way: "What do ya think? Should we eat this one or not?" "Nah, it has something smelly in it, I'm not eating it" "Ok then, I won't eat it either"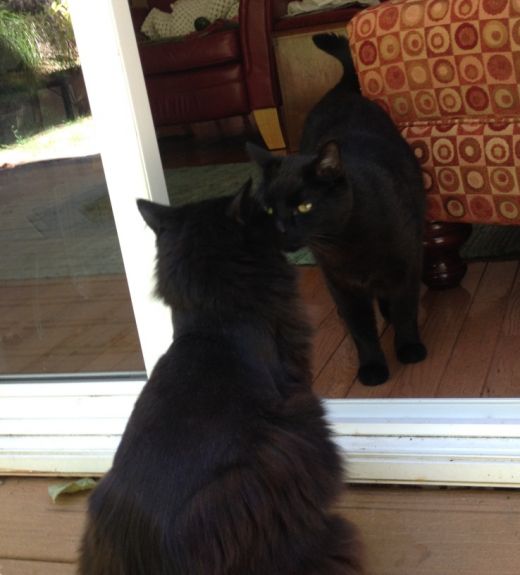 I've seen lots of progress in Mona's recovery since the staples came out. It's been very hot and she seems lethargic but is good finding the cool places to sleep. One is under a bush next to my pondless stream. She still seems to have a fantasy that she'll pounce out on to a bird drinking in the stream. I don't believe she's caught a bird yet but she can still dream.
There have been more highs than lows and I don't regret the decision to amputate. Mona is 8 years old and I expect her to be with me for many more years. I can hear Mona walking – she now has a rhythmic thump – I've come to love that sound.
Any and all questions or helpful tips are welcome. I'm here to support anyone going through the amputation surgery and recovery and to learn from you. Thanks for this fabulous website!