Tripawds is a user-supported community. Thank you for your support!
Mona went for a chiropractic treatment today by a vet who integrates Traditional Chinese Medicine with Western veterinary medicine and chiropractic. Not that Mona cares what type of medicine the vet practises. For the first time ever, she meowed constantly in the car while driving to the vet. Perhaps she was afraid she was going to lose something else…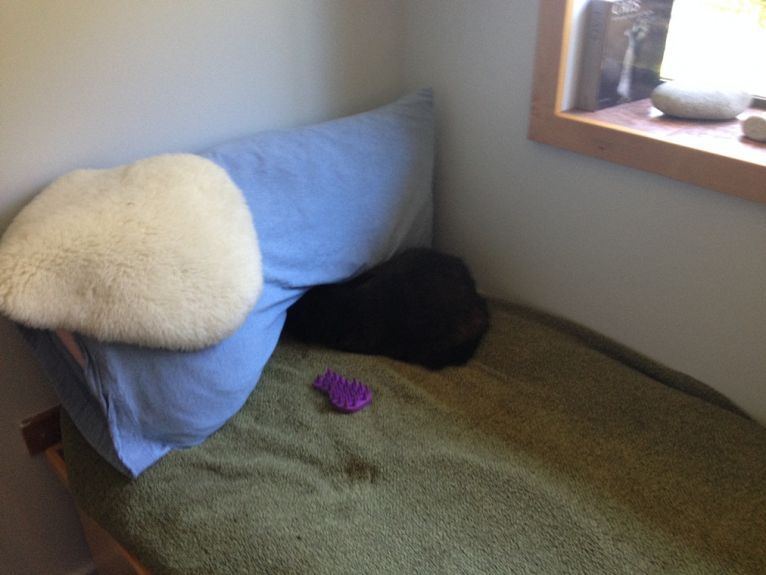 The vet, Marlene, was upset and angry that Mona lost her leg due to a vaccine. Why don't they fix the vaccines? She also believes no vaccinations after the kitten vaccines. At her clinic they do titer testing. I know there is a lot of debate about vaccines – which ones, how often, live, adjuvanted …. Bottom line, a vaccine injection gave Mona cancer and I HAD HER LEG AMPUTATED TO SAVE HER LIFE. Yup, I still get a bit angry. I had her vaccinated to protect her and it could have killed her.
Moving on. Here's Marlene's prescription for Mona:
1. Because Mona's cancer was so aggressive I need to brush her and feel her whole body for lumps every day.
2. Gentle playing with strings and feathers so Mona moves slow to get her balance. Going fast is easy, she needs to go slow to strengthen.
3. Massage her back and pelvis to keep the spine moving. I hope I remember her technique.
4. "Power Mushrooms" to enhance immune functions and it contains herbs that may have an anti-tumour effect (according to Chinese research).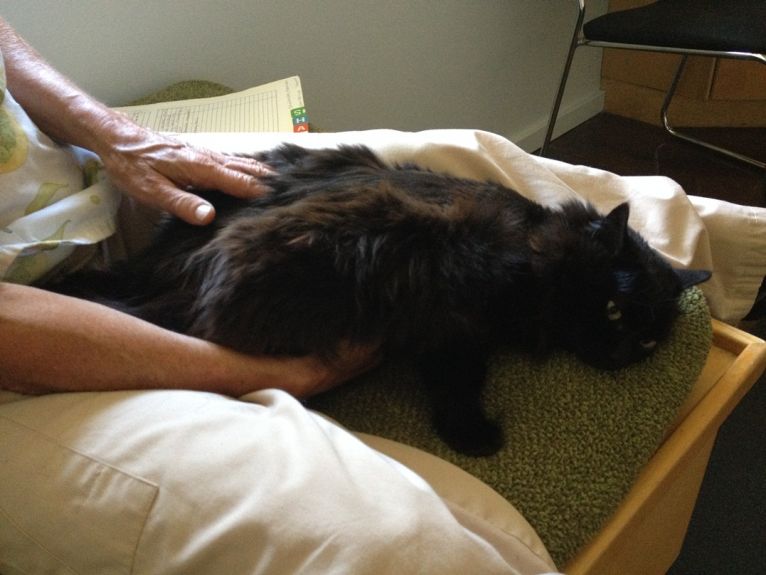 After just minutes of massage Mona was flaked out on the couch. Not a peep from her on the way home in the car. I'd say she likes these kind of vet visits. When we got home her happy tail was up and she was prancing more than thumping. I hope you all can find rehab or after-care for your tripawd kitty or dog in your community.
Kerren and Mona