Today I took my cats in to the vet. Mona, who had her leg amputated in June due to VAS, went just for a weigh in. Eli, for his yearly health checkup and to discuss vaccines.
I got a copy of Mona's histology report that stated the amputation obviously captured all of the main tumor mass, which was very invasive and it was difficult to determined exactly where the tumor began and ended. The diagnosis was a high grade fibrosarcoma with complete excision, virtually certain to be postvaccinal sarcoma. To see this in writing I now know we did the right thing for Mona. The pathologist stated the margins were huge and that there's little metastatic risk, at least within the usual postoperative follow-up intervals found in published literature. There is no study with 5 or 10 year postoperative data. Hey after this scare, I'll take any amount of time.
I know this isn't the same for all of your kitties and doggies. I feel very sad for those who continue to deal with the cancer on an on-going basis. Although I can breathe a bit easier I'll still massage Mona daily feeling for lumps.
Although, Mona now cries in the car going to the vet (she didn't do that before the amputation), my big strong boy Eli yowls in fear. Mona went in a box, Eli in a cage. This is how they went home with Eli (on the left) being "comforted" by Mona: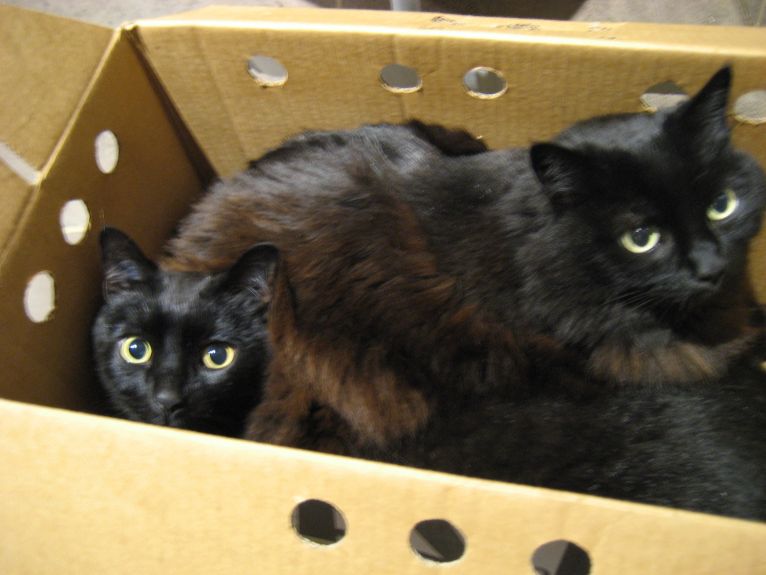 I sure love these two!
Kerren and Mona the Comforter, who won't let Eli near her at home.